BLUE MOUNTAINS RETREAT

Friday 10th November 2023 - Sunday 12th November 2023
Blackheath, NSW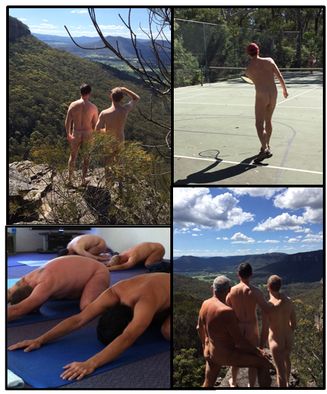 The NYS Blue Mountains Retreat is an opportunity for you to spend three wonderful days as part of the naked yoga community.
Join us as we deepen our yoga practice and strengthen our bodies and spirits. The location of the retreat on a secluded property in Blackheath and will help heighten your sense of oneness with nature and the earth.
Activities:
In addition to yoga classes and workshops, there will be plenty of time for contemplation, bushwalking or nude tennis on the full size tennis court. We will also have a qualified massage therapist available for massages during the free time.
There are numerous dams, wonderful lookouts overlooking the beautiful valleys in the Blue Mountains and walking tracks on the property to provide recreation and give you the option of getting away to a private spot in the bush to relax and imagine you are far from anywhere.
The greatest indulgence of all is just to stop and do nothing! 
Accommodation:
All accommodations are beautiful shared two-person rooms (twin share basis) in comfortable cottages.
All bedding (sheets, blankets and pillows) are provided.
Pricing Information:
Single: $540.00
Couple (sleeping in Double/Queen): $350.00 p.p 
All meals, accommodation and yoga classes are included. (Transport to and from Blackheath is not included. A massage therapist may be available for an additional fee).
A non-refundable deposit of $140.00 is required to secure a place. The balance must be paid by Friday 29 September 2023.
Payments can be made at a class, by direct deposit (preferred) or via Simpletix (an extra transaction fee applies). Direct deposit details will be provided when you book.
The cancellation and refund policy of Naked Yoga Sydney is non negotiable. Due to the nature of these retreats and us having to pay for all reserved rooms, we will only refund 50% of the money paid (except the non-refundable deposit) 4 weeks before the retreat starts. After 4 weeks before the retreat there is no refund.
To book a place please complete the online booking form. A confirmation of your booking and details for Direct Deposit payment will then be emailed to you.
For further details on the Blue Mountains Retreat please email Steve at info@nakedyogasydney.com or on 0407 281 433