Expose yourself to yoga
NAKED YOGA ONLINE
It is clear we are going to be self-isolating/social distancing and not able to have in-person classes for a while longer. So, as a way to provide an opportunity for people to stay connected to each other and to our practice we will be hosting yoga sessions virtually online.  
To celebrate 15 years since the first Naked Yoga Sydney class, our first live streaming session will be next Thursday 14 May from 6:30-7:30pm. This will be a free Zoom class.
Click here for timetable details or here to book in for an online class.
As we continue our practice online we reflect on the thoughts we shared back in March which continue to be as important for today and coming days:
The true benefit of yoga is not what you do in the studio but how you apply your practice to your daily life…your ability to remain a steady force in a turbulent world. The world is turbulent at the moment, that's for sure, but our practice can help us stay calm and grounded.
Please, stay calm, stay grounded and look out for each other. It is the communities that react with love and compassion that will weather this storm better than those who act out of fear and panic.
Keep an eye out for additional emails from us and check the website for updates. If you have questions, please don't hesitate to contact us at info@nakedyogasydney.com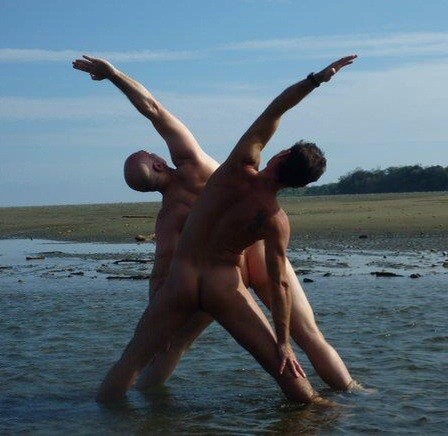 Our Naked Yoga classes are for men in Sydney or visiting Sydney who are interested in the practice of yoga without the restrictions of clothing.

This group holds classes on Wednesday evenings, Saturday mornings and and Sunday afternoons. 

Our goal is to provide an opportunity for real male community and holistic social interaction between supportive, centered individuals who enjoy the practice of yoga as well as the company of other naked men. We strive to provide an atmosphere of comradery, body-acceptance, and sensuality (not sexuality). Although sensuality is an intrinsic part of this group practice, it should be clear that this is not intended to be a blatantly sexual venue.
The group is open to adult men of all ages (18 years and over) and body types. You don't have to have a perfect body to join and attend our classes. All men are welcomed--gay, bi or straight. Diversity among members only adds to the dimension of this group of men, leading to a richer yoga experience. You will work . . . you will sweat . . . and you'll love it.
Disclaimer:
NYS cannot warrant and does not represent that the information available on its website, any advertisement or any linked sites is complete, reliable, current or free from error or is suitable for any purpose.  NYS excludes all other promises and warranties about this site and the information it contains. Advertisements are a service for members of Naked Yoga Sydney.  NYS cannot accept any responsibility or liability for any loss, damage, cost or expense (Loss) that might be incurred in any way as a result of the use of the NYS website or use of or reliance on the materials which appear on it or any linked sites even if caused by NYS's negligence.  Without limitation, this exclusion includes any Loss caused by the transmission of a virus or similar and consequential loss such as loss of profits and loss of data.